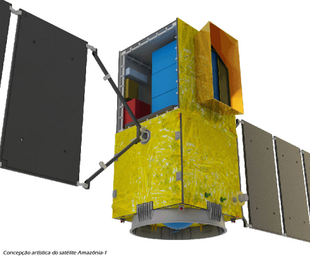 Amazônia artist's impression.
New contract with our customer INPE for the procurement of the Brazilian Amazônia satellite.
Amazônia 1 and 1B, formerly designated SSR (Satélite de Sensoriamento Remoto), will be the first satellites examining land resources, and entirely developed by Brazil. Originally the SSR satellites were intended to be 230 kg class satellites to be launched on VLS-1 rocket, but during the long development process, they became larger, modular satellites. They will use the Multimission Platform – MMP, a medium-size platform, which was also developed by INPE and other Brazilian industries as a part of the National Programme of Spatial Activities (PNAE), coordinated by the Brazilian Space Agency (AEB). The Amazonia-1 will carry an optical instrument called AWFI, operating in the visible and near infrared band, with a spatial resolution of 40 meters and a swath of around 780 kilometers.
ATN has been suppling electronic components since the beginning of the Project. Launch of Amazônia 1 is now after several delays expected no earlier than 2018.